Jørgen Olsen is a horseman from Denmark, and according to Eurodressage, Jørgen Olsen is the "Master of Piaffe". I think they got confused and meant to say he's the "Master of Yanking on Horse's Mouths" instead.
"If there were a Piaffe World Championship, in which each participant had ten horses to work with, I am sure that I would win," said a confident Jorgen Olsen says with a twinkle in his eye and a warm smile. A bold statement from a humble horseman who knows his worth. That's okay, when you know what you are talking about!

Heidi Moller, Eurodressage
Jørgen Olsen, A Mater in Piaffe from Denmark
Piaffe must be fun!
From the Eurodressage article, even Jørgen Olsen himself sounds confused about his own skills with Piaffe training.
Piaffe must be fun!

"For me there is nothing more beautiful than a happy horse in piaffe with the ears forward carrying the tail in a relaxed way. On the other hand there is nothing worse than an angry unhappy horse doing piaffe and it is sad when the horse is tense and anxious," Olsen stated.

Heidi Moller, Eurodressage
Jørgen Olsen, A Mater in Piaffe from Denmark
Piaffe doesn't look fun…
I don't know about you, but there is absolutely nothing fun-looking about this Piaffe training.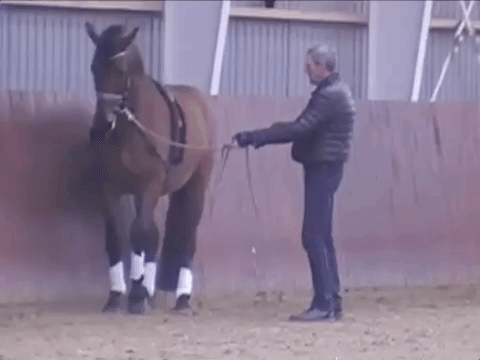 Oh… maybe he doesn't mean the training is fun, only the end result should look like the process was fun. Hmm.
Light Contact and Ears Forward
A lot of riders think piaffe is hard on the horse but it is not if you teach the horse piaffe with a light contact on the reins and ears forward.

Heidi Moller, Eurodressage
Jørgen Olsen, A Mater in Piaffe from Denmark
Looks like the definition of light contact is no contact until correction, and then yanking on the reins. This is developing fear in the horse, fear of pain and fear of the trainer. It's a deplorable "training" technique and shows the trainer lacks the knowledge and skill to train otherwise.
Olsen and The Happy Athlete
Eurodressage's article chooses not to highlight any of the above videos, but instead this promotional video of "Olsen and The Happy Athlete".
Despite their efforts to present the best picture, even this video gives away the deep-seated nervousness of the horses in Jørgen Olsen's care.
In real-life, that picture of "The Happy Athlete" quickly deteriorates as Olsen demonstrates his real training methods in front of a live audience. Sadly, nobody speaks up to stop him or say it's wrong. Fortunately, someone documented it with video to hold him accountable for his actions outside of that arena.
He's Just Teaching Them a Lesson
I'm absolutely positive that some readers will see absolutely nothing wrong with occasionally yanking on the reins to reprimand the horse. It's just one tool to make sure the horse remains light in the bridle, "respects" the rider, etc.
I call bullshit.
This is nothing more than pure punishment, and a very painful form of punishment at that.
Imagine if I wrapped you on shin-bone with a metal rod every time you did something I didn't want? You bet your chapped-cheeks that it would hurt like hell! You'd grow to hate and resent me. If I had you in the proper control you might still do what it is I want, but it wouldn't be because you respect me, or learned a valuable lesson. You'd do it because you were afraid of experiencing that level of pain again.
A Real Master
Let's close out this post with a video of a real Master, Philippe Karl working on developing Piaffe and Passage in a humane and intelligent way.
(Visited 13,979 times, 1 visits today)